Environment - Safety
Dianik is a fully certified Ship Management Company compliant with all current international rules and regulations at sea and with a continual adaptation to any new ratifications thereto. The Company maintains and adheres to a fully updated ISM / ISPS system, Quality standards ISO 9001 and ISO 14001, and certifies its vessels and office via Bureau Veritas.
Environmental responsibility & preservation of ecological balances is important to Dianik. All managed vessels are RightShip inspected which is a testament to Dianik's commitment towards quality and safety.
Dianik also participated with The Port's Green Flag Program, a highly successful one in reducing smog-forming emissions and diesel particulates from ships.
Our vessels having called the Port of Long Beach have earned the coveted Green Flag environmental achievement award for extraordinary compliance with the program for a 12-month period.
Our fleet is amongst the 10% of non US flagged ships, eligible for the US Coast Guard "QualShip 21" qualification and participates in the "AMVER Reporting System", operated by the US Coast Guard for promoting safety of life and property at sea.
AG.NEKTARIOS enrolled into the USCG's QUALSHIP21 program. "Less than 20% of all foreign-flagged vessels that operate in the United States meet the strict eligibility requirements of this program; QUALSHIP 21 status is reserved for foreign flagged vessels that meet the program's high standards of safe vessel operation "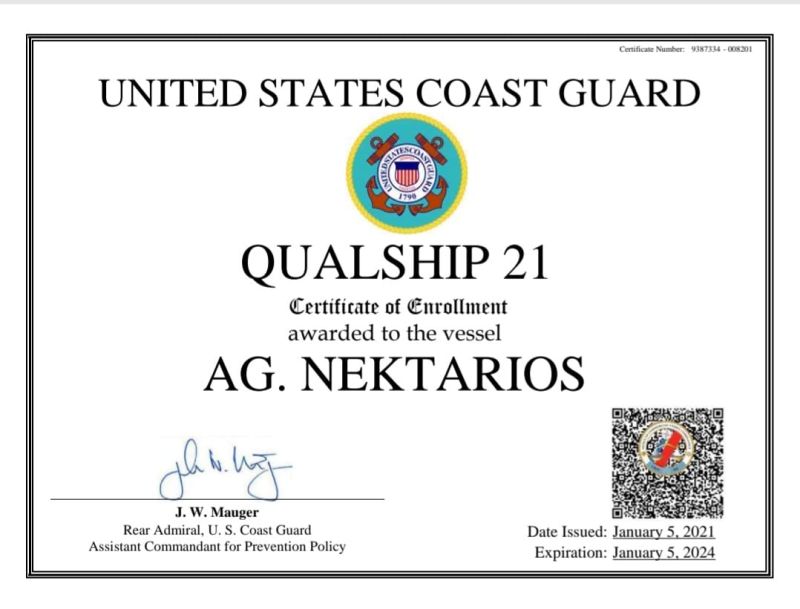 Dianik is also a member of Intercargo and Helmepa.